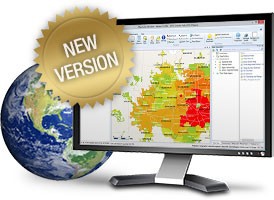 Greetings!
The beta period for Map Suite GIS Editor has ended and we would like to take this opportunity to thank everyone for their participation.  As of today, we've launched an updated version of the GIS Editor that adds numerous new features, improves performance and squashes the bugs you reported.  And, as a token of our appreciation, those of you who tested the GIS Editor during the beta will receive a free subscription to the new release of the GIS Editor good through the end of September.
To take advantage of the new release, we suggest that you first uninstall the beta version and then install the latest release by downloading it from download.thinkgeo.com/MapSuiteGISEditor.msi.

Here's what you can look forward to in the new release of the GIS Editor:

    
Cloud Layers, which allow you to easily display data from OpenStreetMap, National Atlas and other providers via the Data Repository

    
Enhanced rendering performance

    
FileGeodatabase format support

    
Microsoft SQL Server support

    
TinyGeo format support

    
Ability to export your map to Google Earth

    
Global bookmarks

    
Printing at exact scales

    
Integration of parcel data by Boundary Solutions

    
Simplified user interface

    
Advanced layer exporting options (including ShapeFile, delimited file, FileGeodatabase and TinyGeo)


For any questions, suggestions or enhancement requests please feel free to contact us directly, post your replies on this blog entry, or add them to the Map Suite GIS Editor support forum.

Thanks for mapping with Map Suite,

The ThinkGeo Team