I recently upgraded from MapSuiteCore 8.0.0.83 to 8.0.0.351 and observed this problem. Please guide me towards a solution.
My application is using FileBitmapTileCache as a tile cache. Omitting the cache fixes the problem, but i require it for optimization since my image is large. My test scenario uses EPSG 4326, but the BBOX is purposefully outside of the max extents of 4326.
This is the observed defect
[Left image] Version 8.0.0.83 (BBOX=-180,0,0,180 WIDTH=256 HEIGHT=256 EPSG=4326)
[Right image] Version 8.0.0.351 (BBOX=-180,0,0,180 WIDTH=256 HEIGHT=256 EPSG=4326)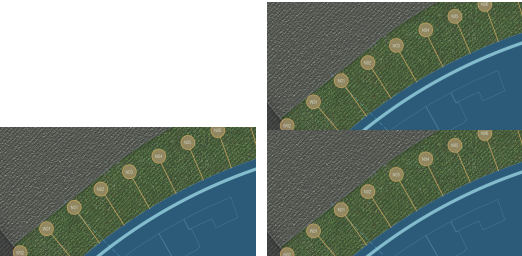 Relevant information
I am using the following API - FileBitmapTileCache with a GdiPlusRasterLayer. There are no options set for Interpolation or TileMatrix, its all defaults.
I can provide code if requested. Code is a stable product developed using Version 6 and upgraded a few times to 8.0.0.83.
Alternative scenario in which problem is observed
If the BBOX is not a square, the same defect is observed.
Can you guide me on the following
Does thinkgeo really support a mechanism to return transparent pixels for the region outside the max extents ? Version 8.0.0.83 returned a correct result.

Is this a defect of the thinkgeo , or should i look to adjust my application to never request tiles outside the maxextents of 4326 ?

Does thinkgeo support BBOX which is not a square ? Should i adjust my application to only use BBOX which is a square ?
Let me know your thoughts. I can provide a sample application if requested to. It will take me some time to write such application, but its easily reproducible.
*ps - i could not upload 2 images because i was a new user. Let me know if this post is confusing and i will try to clear it up.